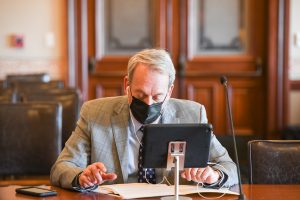 State Senator Dale Fowler is paving the way for youth entrepreneurs to seek better opportunities to start and operate businesses in Illinois.
"The business climate across our state is tough right now," said Sen. Fowler. "If we can find a way ensure young business owners are successful, it's a great thing for our local economies and job growth."
Senate Bill 2984 makes changes to Public Act 102-0272 and adds the language 'youth entrepreneurs' to the list of groups to be assisted at Entrepreneurship Assistance Centers though a program with The Illinois Department of Commerce and Economic Opportunity.
"What this bill does is clearly outlines 'youth entrepreneurs' as a person between the ages of 16-29 who is seeking support to start a business in Illinois. These centers will provide the best tools and guidance to young business owners in both the pre and post startup phase, assisting them with knowledge and access to capital and resources," concluded Fowler.
Senate Bill 2984 passed out of the Senate State Government Committee unanimously and will now be considered on the senate floor for a full vote. The legislation must make its way through the House of Representatives before being signed into law by the Governor.