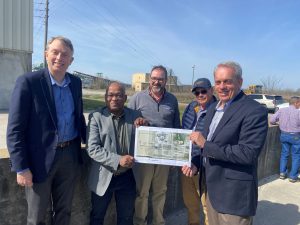 State Senator Dale Fowler welcomed Illinois Department of Transportation Secretary Omer Osman to southern Illinois recently to tour the Shawneetown Regional Port Project.
This past January, an $11.2 million investment was announced for the port project as a new capital investment.
Sen. Fowler, Secretary Osman and Representative Patrick Windhorst met with both representatives from the port district and private sector to discuss future plans with the project.
To learn more about the project, click here.