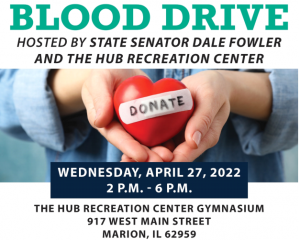 State Senator Dale Fowler and The Hub Recreation Center have teamed up to host a community blood drive April 27, 2022.
"There is always a great need for blood donations across our state. Now that things are improving from the coronavirus, it is important we restock our blood supply so that anyone needing a transfusion is able to get one," said Sen. Fowler.
Representatives of the Illinois Comptroller's Office and the Illinois Treasurer's Office will also be on hand at the blood drive to offer help with any issues people have with their departments.
"All presenting whole blood donors will receive a voucher to redeem for their choice of a $10 electronic gift card to various retailers. A tree will also be planted on the presenting donor's behalf in a national forest in need of tree planting," concluded Fowler.
The blood drive will take place on April 27, at the Hub Recreation Center Gymnasium, 917 West Main Street, Marion, IL 62959 from 2 p.m. – 6 p.m. Appointments to donate blood are strongly recommended, but walk-ins will be welcomed.
To register for the blood drive, you can RSVP by clicking here.