After numerous inquiries regarding the status of construction at the off-highway vehicle trail system at the Sahara Woods State Fish and Wildlife Area, State Senator Dale Fowler wants to provide an update on where things currently sit with the project.
"I have been in constant contact with the Illinois Department of Natural Resources since this project was announced back in 2017 during the Rauner Administration," said Senator Fowler. "IDNR has assured me this project is still moving forward, and while there has been sort of a delay with funding sources, I look forward to seeing the construction move forward."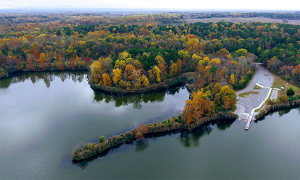 The 26-mile development will be the first state-owned off-highway vehicle trail facility and will serve as a unique addition to outdoor recreation in southern Illinois. According to a spokesperson with IDNR, the state agency is waiting for about $1.3 million in funding from the Federal Highway Administration before the first phase of the project can go out for bid.
"The first phase of this project will include critical amenities like a service building where the public can use the restroom and the infrastructure to support this building," said Fowler. "It is multi-million dollar investments into this region that will continue to put southern Illinois on the map as a vacation destination and help our local communities thrive."
According to IDNR, work already completed on the project includes:
The clearing of 26 miles of trails for the project
The installation of $100,000 worth of culverts throughout the trails
Maintenance projects, including keeping trails clear of debris and from overgrowing back with woody vegetation
Design work for two separate Phase 1 projects; ready to bid immediately once federal funds are in-hand.
Utilities are being worked on with Carrier Mills and planning for electrical and fiber optics are underway
Sahara Woods State Fish and Wildlife Area is located west of Harrisburg on Illinois Route 13. The former mine property was donated by the Sahara Coal Company to the State of Illinois in 1999.
IDNR officials say they are cautiously optimistic the OHV site will be ready for riders in the spring of 2023.