48 state leaders chosen for the annual leadership development program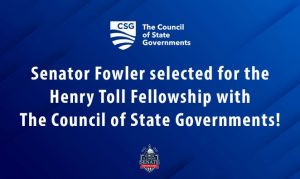 LEXINGTON, KY – The Council of State Governments has announced that State Sen. Dale Fowler (R-Harrisburg) has been selected to participate in the 2022 CSG Henry Toll Fellowship.
Bringing together 48 individuals representing 32 states from several sectors of state government, the Henry Toll Fellowship is the nation's premier leadership development program for state government officials.
"Working alongside countless Southern Illinoisans, I have served in city, county, and state government leadership roles. As Senator for the 59th Senate District since 2017, I continue to be an unwavering advocate for the growth, development, and prosperity of Southern Illinois communities and businesses," Fowler said. "Being selected to participate in the CSG Henry Toll Fellowship program, based on my work with my fellow residents, is an extraordinary honor."
Each year, the CSG Henry Toll Fellowship brings up to 48 leaders from all three branches of state government to the CSG national headquarters in Lexington, Kentucky, for an intensive, five-day leadership boot camp. The program's sessions are designed to stimulate personal assessment and growth while providing priceless networking and relationship-building opportunities.
"While the CSG Henry Toll Fellows come from every region of our nation, from both political parties and all three branches of state government, they share one thing in common— they are all people of purpose with a passion for public service," said CSG Executive Director/CEO David Adkins, a former Kansas state senator and 1993 Toll Fellowship alumnus. "Toll Fellows are selected based on their demonstrated commitment to solve problems, to work collaboratively to get things done, and their belief that state government can and must be a force for good."
The CSG Henry Toll Fellowship encourages participants to evaluate and adapt the way they interact with each other and the world around them, providing an opportunity unlike any other in the nation. Providing a variety of exercises and sessions, the content of the program is different each year.
There are more than 1,300 graduates of the Toll Fellowship, which began in 1986. Distinguished alumni include five state/territorial house speakers, three sitting state supreme court justices, ten sitting members of Congress, five sitting governors and 200 Toll alumni currently serving as state/territorial legislators.
"Congratulations to the 2022 Toll Fellows for being selected to participate in the premier state government training program in the country," said Washington State Sen. Sam Hunt, who serves as CSG National Chair for 2022. "As part of a very selective group chosen from state governments across the country, they are in for a rewarding experience. As a former Toll myself, I know they will sharpen their skills in making government more effective."
For more information on the CSG Henry Toll Fellowship, visit: csg.org/leadership or email leadershipdevelopment@csg.org.
State Supreme Court swears in new Justice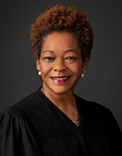 The Illinois Supreme Court has a new Justice. Lisa Holder White was sworn in July 7 at a ceremony at the Abraham Lincoln Presidential Library to replace retiring Justice Rita Garman. Holder White is the first African American woman to serve on the state's highest court in its 203-year history.
Justice Holder White received her undergraduate degree from Lewis University and her law degree from the University of Illinois at Urbana-Champaign. She has previously served as a Judge on the Illinois Appellate Court, a Circuit Judge, an Assistant State's Attorney, and a Public Defender.
State Supreme Court: General Assembly should open access to small rivers, streams 
Under current state law, landowners can restrict access to rivers and streams that cross their property, unless that body of water is considered navigable (of sufficient depth for use in commerce).
That concept was tested in a recent decision from the Illinois Supreme Court involving two landowners. One landowner has two parcels along the Mazon River. One of the parcels is landlocked, so the owner would access it by paddling a kayak on the river from the other parcel. However, the owner had to traverse a part of the river that flowed through a parcel owned by a second individual. The second owner was trying to block the first owner from being able to travel that section of the river.
The Illinois Supreme Court ruled in favor of the second landowner, saying that he does have the right under state law to restrict access to the part of the river that crosses his property.
However, multiple justices on the state's high court have urged the Illinois General Assembly to take up the matter and change state law to allow recreational use of waterways that cross private property.
Conservation program enrollment open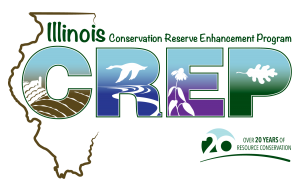 The state of Illinois is relaunching a program designed to help protect the environment by paying to take qualifying farm ground out of agricultural production. The Illinois Department of Agriculture and the Department of Natural Resources are putting $50 million toward the Conservation Reserve Enhancement Program (CREP), which had previously been discontinued in 2015 due to a lack of funding.
The goals of the CREP program are to reduce sediment and nutrient runoff, improve water quality, and to create and improve fish and wildlife habitats. The program works by making rental payments to landowners to take land out of production.
Opened June 15, the CREP Program is available the 68 counties that make up the Illinois River and Kaskaskia River watersheds (which include tributaries and other rivers that are part of those watershed systems). More information is available at https://www2.illinois.gov/dnr/conservation/CREP/Pages/default.aspx.