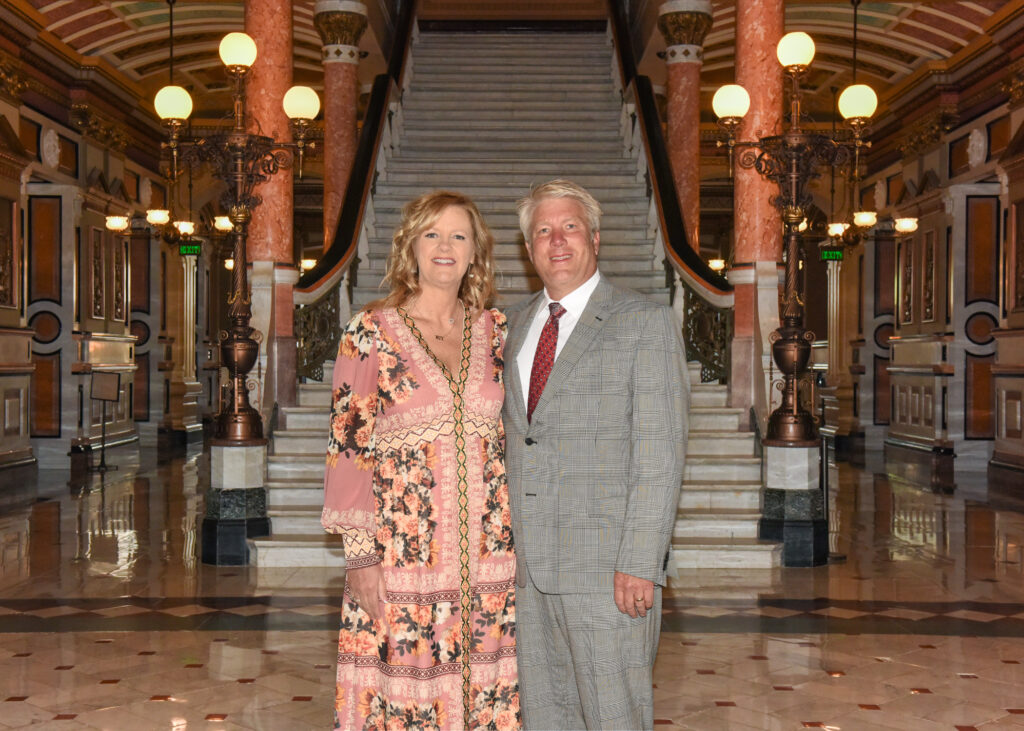 State Senator Dale Fowler welcomed Rendleman Orchard Owners Wayne and Michelle Sirles to the State Capitol Tuesday as a way to thank the multigenerational farm family for their 150 years of service to southern Illinois.
"Tucked away in the hills of southernmost Illinois, and bordered by the Shawnee National Forrest, the Rendleman Orchard Family has dedicated their lives to producing some of the best apples and peaches across our state," said Senator Fowler. "Over the years, they have invested and grown their operation providing fruit and vegetables across the entire state."
Rendleman Orchards was founded in 1873 by John and Isabelle Rendleman who at that time staked their claim on 88 acres at the Alto Pass location in Union County. Today, five generations later, the orchard is a vast 800-acre phenomenon employing hundreds while feeding millions.
"We are considered a full-service turnaround operation," said Michelle Sirles. "Our family farm being that we are wholesale primarily and retail secondary. We grow it, we take care of it, we harvest it, we pack it in our own packing facilities, and we ship it in our own trucks or sell it direct to consumers in our farm markets. People are quite surprised by the various services that we offer and mostly that we are the fifth generation."
Senator Fowler honored fifth generation producers Wayne and Michelle Sirles on the Senate Floor Tuesday. Other generations in the family include John and Isabelle Rendleman (1st Generation), Grover and Iva Rendleman (2nd Generation), James and Mary and Helen Rendleman (3rd Generation), and Wayne R. and Betty Sirles (4th Generation).
Every Senator was delivered a gift box as a token of appreciation from the orchard. To learn more about Rendleman Orchards, click here.