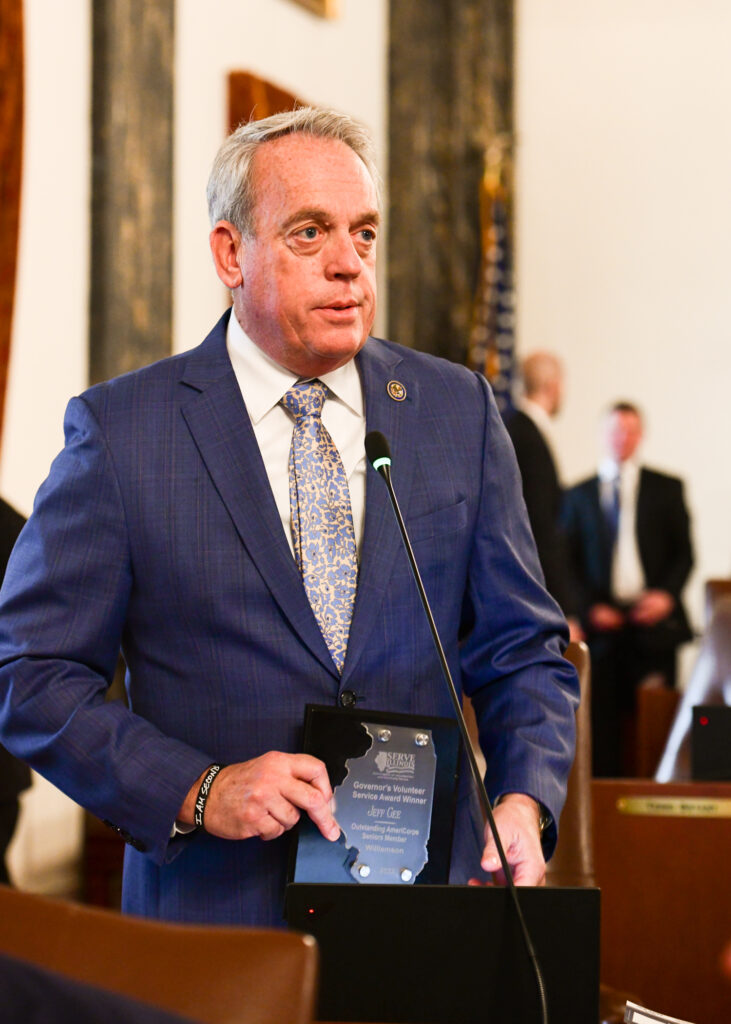 State Senator Dale Fowler took a moment on the Senate floor Thursday to recognize Jeffery Gee of Carterville moments after accepting an award on Gee's behalf at the 13th Annual Governor's Volunteer Service Award luncheon in Springfield.
"I was honored to accept this award on behalf of Pastor Gee and his family," said Senator Fowler. "Jeffrey dedicated his life to serving the people of Williamson County and the surrounding area. He was a true public servant co-founding the Herrin House of Hope and through his service as a minister. Pastor Gee is the upmost deserving of this award and I only wish he was here with us to have accepted it."
Gee was tragically killed February 21, 2023, after being struck by a vehicle while unloading boxes of Almonds from a pickup truck at their volunteer facility.
"Not only did Pastor Gee serve on a variety of boards throughout the area, but he was also the founder of Bicycle Resurrection which has given more than 2,000 bicycles to those who didn't have or couldn't afford transportation. He was truly a godly man dedicating his life and helping those who needed a helping hand. Williamson County is better because of him."
Each year, The Governor's Volunteer Service Award recognizes volunteers and volunteer programs that have made a difference in Illinois and highlights the importance of volunteerism and community service.