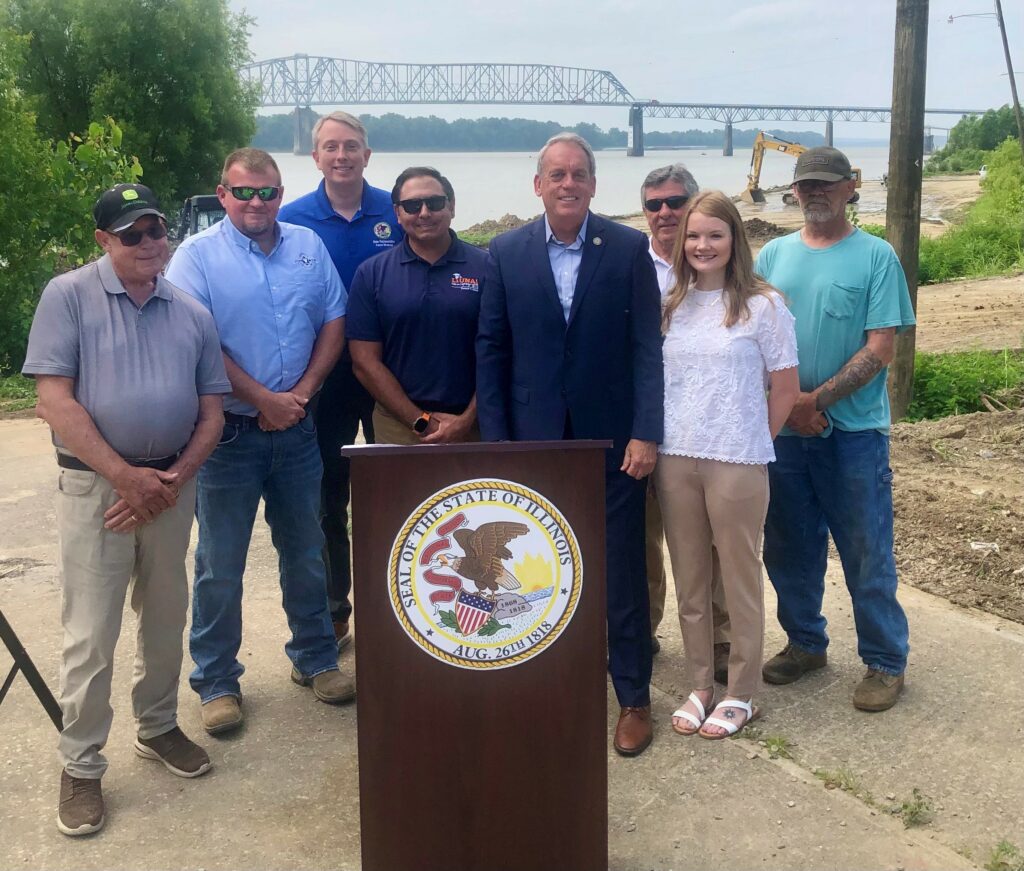 State Senator Dale Fowler joined local leaders and project stakeholders Tuesday at the Old Shawneetown Ohio Boat Ramp for a groundbreaking ceremony announcing funds for the reconstruction of a decommissioned boat ramp.
"The project at Old Shawneetown has been a labor of love and it's finally exciting to see movement at this location," said Senator Fowler. "The former boat ramp was extremely important to public safety and for recreational purposes and will be invaluable to the people who use the waterways."
The former boat ramp has been decommissioned for more than 15 years following natural changes to the river's waterways.
"This new boat ramp will enhance public safety on the water as our river and rescue dive team will now have immediate access to the waterways versus having to drive 35-40 minutes across state lines to launch any sort of water response call," said Gallatin County Emergency Management Director Steve Gault.
The $800,000 grant through the Illinois Department of Commerce and Economic Opportunity was awarded July 1, 2021.
"The Old Shawneetown Ohio River Boat Ramp is steeped in rich history and the region has long served as an important launch point in Illinois between neighboring states," said DCEO Director Kristin Richards. "This critical investment will enable boat access, increase activity, and bring more tourism and recreational dollars to the area."
Since the announcement of the grant, the port district has undergone both the permit and surveying process for the project.
"As a lifelong resident of Gallatin County, this is a huge opportunity for our area and it's incredibly important to our community and entire county to have this boat ramp and access to the river again," said Shawneetown Regional Port District Board President Makenzie Golden.
"As a local, it is wonderful to see improvements in Old Shawneetown. IDNR was proud to play a role in this project by ensuring this boat ramp has the proper permits," said Natalie Phelps Finnie, director of the Illinois Department of Natural Resources
Jim Brown, a project engineer with Brown and Roberts Inc., who is overseeing the project says the scope of the project will entail elevating approximately half of the lower ramp and parking area, constructing a new boat access ramp, extending two jetties into the river to divert siltation, replacing nearly 2,000 sq feet of parking lot and placing rip rap along the area.
The project is expected to be completed by the end of the year.