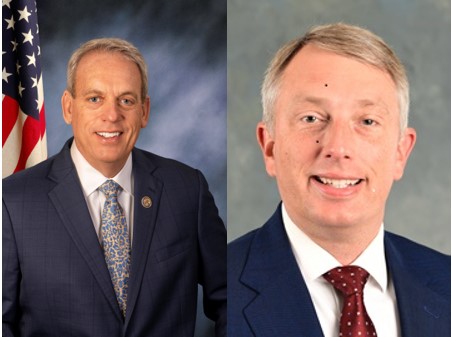 State Senator Dale Fowler and State Representative Patrick Windhorst are reporting the signing of two pieces of legislation that they sponsored during the spring legislative Session. The lawmakers worked closely together to usher the two bills through the General Assembly with unanimous support.
HB 1434, now Public Act 103-0124 changes the Juvenile Court Act to allow the admissibility of certified hospital or public or private agency records in adjudicatory hearings on abused, neglected, or dependent minors.
"Unfortunately, too often minors are abused and neglected and their medical records are needed in court proceedings to prove that abuse and neglect," said Senator Fowler. "This new law was necessary to undo burdensome restrictions on the admissibility of medical records in Illinois juvenile court hearings," said Senator Fowler.
Rep. Windhorst says he is happy to see the legislation signed into law after a years-long effort.
"I was happy to pass this measure through the House previously, but the bill had been held up along the way in the Senate," Windhorst said. "Working together with Senator Fowler, we achieved unanimous support for this new law that will protect juveniles' private medical information while loosening restrictions on the admissibility of the medical records for those hearings."
HB 3578 was also signed into law as Public Act 103-0195. Senator Fowler and Representative Windhorst achieved unanimous support for the new law in the House and Senate. The legislation provides that upon request, members of the General Assembly may request that the Secretary of State shall issue two sets of registration plates for use on two different motor vehicles and that if the member has a disability, he or she may request one set of specialized plates that displays the International Symbol of Access. As part of the legislation, current and former members would still be required to pay all requisite registration fees.