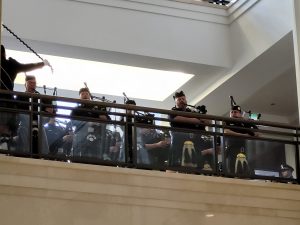 SPRINGFIELD — Law enforcement officers who gave their lives in the line of duty were honored at a ceremony May 5 in Springfield attended by their friends, their families, and scores of police officers from across the state.
Held this year in the Illinois State Library because of inclement weather, the ceremony honored those officers who were killed in the line of duty during the 2021 calendar year. The names of those officers will be added to the Illinois Police Officers Memorial located on the grounds of the State Capitol complex
Fallen Firefighters to be honored at Capitol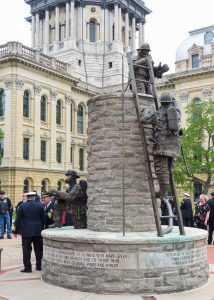 Firefighters prepare to head to Springfield next week to honor their fallen comrades. The 29th Annual Illinois Fallen Firefighter Memorial and Firefighter Medal of Honor Awards Ceremony is scheduled for May 10 in Springfield.
The Fallen Firefighter Memorial service will be held at the Firefighter Memorial on the grounds of the Illinois State Capitol to honor Illinois firefighters lost in the line of duty. Following the ceremony at the Capitol, the Medal of Honor Ceremony will take place at the Bank of Springfield Center.
Sen. Fowler's Student Advisory Council meets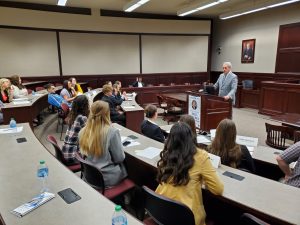 Fifty students from high schools in the 59th Senate District gathered at the Stadium Club in Carbondale April 20 to learn more about the workings of their state government, as members of State Sen. Dale Fowler's Student Advisory Council.
The students were recommended by officials from their respective schools to participate in the program. They met with Sen. Fowler, then heard presentations by Dr. Meera Komarraju, Interim Provost and Vice Chancellor for Academic Affairs, Professor of Applied Psychology at Southern Illinois University (SIU); SIU graduate DeAnna Price, an American track and field athlete competing primarily in the hammer throw, who represented the United States in the 2021 Olympic Games; Dr. Sebastian Chou, President and CEO of Summit Enterprises Services Incorporated; and Joe Cervantez, State's Attorney of Jackson County.
Students then convened at the SIU Law School Court room for their mock committee hearing, assuming the roles of lawmakers, the Governor, concerned citizens, lobbyists, and reporters to debate an issue they chose. After hearing testimony about proposed legislation from the students serving as lobbyists and concerned citizens, the students serving as lawmakers voted on the issue. A student serving as Governor then weighed in on the decision.
Updated infrastructure in Mounds City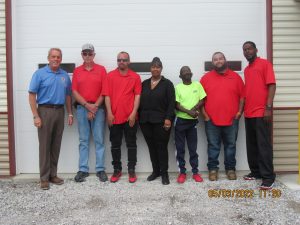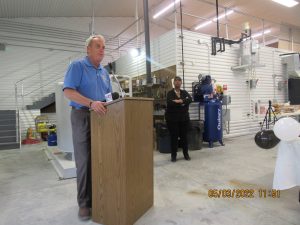 On May 3, Sen. Fowler was invited to attend the dedication of a new wastewater plant in Mounds City.
This new sewer plant will replace the old system, which had long outlived its usefulness. With the new plant, the city's sanitation system is now up to date, and will provide residents with safer water treatment for generations to come.
Fowler says investing in infrastructure and much-needed upgrades like this project will help keep Southern Illinois a viable place to live and do business.